5-100TPD Continuous and automatic waste plastic pyrolysis to fuel oil equipment with CE/ISO from Henan Huatai
Product Description
Henan Huatai Food & Oil Machinery Engineering Co., Ltd (short of HHFOME) was formerly Henan Province Huaxian Grain Machine Factory, is located in Huaxian County of Henan Province, and is a large-scale oil machinery manufacturing enterprise integrated research, development, design, manufacture and installation. It is an outstanding corporate member of China Cereals & Oil Association, China Top 100 food enterprise and the provincial enterprise which abides by contracts and keeps promises. CCOA awarded "the first national cereals & oil outstanding scie-tech novel enterprise", and is awarded with "high growth private enterprise" and provincial enterprise technology center by Henan Provincial Party Committee and provincial government. Our company has obtained "pressure vessel design license", "pressure vessel manufacturing license", "pressure piping design license ", "pressure piping installation license " and "organic heat-loading furnace manufacturing license" issued by General Administration of Quality Supervision, Inspection and Quarantine, and has self-support import and export right and passes ISO9001: 2008 Management By Quality System Certification.. Registered trademarks "Huatai" and "Hangpeng" won "China Top 10 grain machine brand", the Henan province famous brand, and is awarded with "provincial fine quality products" by Henan Province Quality and Technical Supervision Bureau. 
Our company owns 80 middle-high level technical personnels and 78 welders who have boiler & pressure vessel welding certificate among 580 staffs. We have the Chairman's Office, Chief Engineer Office, Technology Research Center, Production Management Dept., Technology Service Dept., QC Dept., International Sales Dept., Domestic Sales Dept., After-sales Service Dept., Purchasing Dept. and other departments. Production organization contains 8 production workshops, 2 machining workshops and 12 engineering installation teams and so on. The company occupies 100000m2, with over 120 pieces (sets) advanced production processing equipments, more than 80 pieces of jacket forming machine, coiling machine, lathes, planers, milling machines, drilling machines, over 10 pieces of shearing molding equipment, including shear capacity 20*2500,bending capacity 20*2500 as well as NC plasma cutting machine etc.. Testing equipment has conventional measurement devices, leak test machine, universal testing machine and nondestructive testing equipment and so on.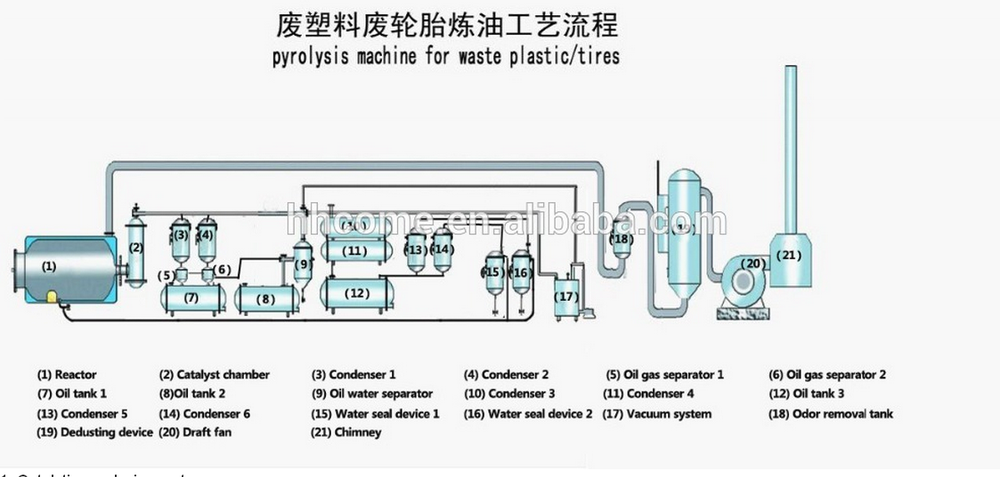 1. Catalytic pyrolysis reactor
The device is designed to completely overcome the current domestic vertical and horizontal uneven heating kettle, easy to break, low yield, short life and other shortcomings. I designed the rotary autoclave to overcome the above drawbacks, using a 360-degree horizontal rotation structure, 1.2 or 1.0 rotations per minute turn, will make the overall heating kettle body, increasing heated area, improve the fragmentation rate of raw materials.
2. Slag system
Current domestic production of reactor, because it is a fixed structure, so the slag is slow, the slag is not clean and other unfavorable factors. The rotating vessel inside the unique design, resorted slag achieve a fully automatic, with the slag fast, slag and clean and other advantages.
3. Environmental Systems
Dust: Wet flue dust I designed and dry dust barrier system S-shaped, with desulfurization dust, dust removal rate of 95% or more, soot emissions can be achieved GB 13271-2001 standards. Completely solve the problem of black smoke are not environmentally friendly. Dust is removed by wet and dry dust chamber dust chamber dust S-shaped barrier, discharge, due to the induced draft fan means, so the chimney can be buried in.
Waste: The waste plastics by catalytic pyrolysis, there will be some solid residue, waste accounts for about 5% to 10% by weight of the plastic. Its main component is a coarse carbon black. Fly ash can be used as raw material for the production of industrial carbon black, and can also power plants with coal as raw material to produce a mixture, as fly ash brick manufacturing (an environmentally friendly building materials) of raw materials. Because of the ash contamination when sanitation, we have adopted a national patent slag technology.
    Wastewater: Throughout the production process, only the condenser and the cooler water, while it is cooling effect, can be recycled, since the seal which produced only one ton 50 kg tractable small amount of waste heat can be dedicated flue neutralization treatment.
4. Flashback exhaust system
   The use of waste plastics, waste rubber refining fuel oil in the process, there are some at normal temperature and pressure can not be liquefied flammable gas, such as air pollution can cause direct emissions. Our self-developed medium-pressure gas burners, very effective solution to this problem, the exhaust gas through two safety devices and tempering seal stopper at the bottom combustion, one can prevent air pollution, on the other hand You can save a lot of fuel
5. Free distillation refining system
After my company's refining system set free distillation process out of the plastic oil, the color is light red or pale yellow, greatly improve the market price of plastic oil. Equipment cost of the system relative to the current system was purified by distillation or vacuum distillation systems on the market is its equipment cost of 1/4 or 1/5.
6. The latest oil catalytic cracking technology
   Waste plastics usually pyrolysis oil technology to be recovered, that is, by heating or adding some catalyst to decompose the waste plastic. Eligible and polymerization monomers, vegetable oil, gasoline and fuel oil gas, floor wax. Waste plastics pyrolysis oil is not only pollute the environment, and can effectively recover energy. We can say that waste plastic pyrolysis oil is a petroleum-based raw materials for the reverse process of oily chemical industry manufacture plastic products. Our company based on the composition of the waste plastic is different, with different catalytic cracking catalysts, compared with domestic production of pyrolysis oil technology, increasing oil yield and improve the oil quality.
1, due to the different composition of waste plastics, which cleaves behavior also varies, polyethylene (PE), polypropylene (PP) and polystyrene (PS) at 300-400 ℃ almost all of this decomposition. And polyvinyl chloride (PVC) at 200-300 ℃ and 300-400 ℃ decompose in two stages. Line at a lower temperature to release HCL, and generate more hydrocarbon, and then further decomposed at a higher temperature. Since HCL device has some corrosion, but also affect the quality of life and cracking catalysts and diesel fuel, gasoline. Therefore, the general requirements for cracking feedstock PVC waste plastics containing not more than 30%.
2, catalytic cracking products, different plastics due to the large difference in the molecular structure, and thus the composition and recovery catalytic pyrolysis products is not the same. In general, thermal decomposition products of four categories: hydrocarbon gases (C1-C5), oils (gasoline molecules of carbon atoms C5-C11, diesel carbon molecules atoms C12-C20, heavy carbon molecules atoms C20), paraffins and coke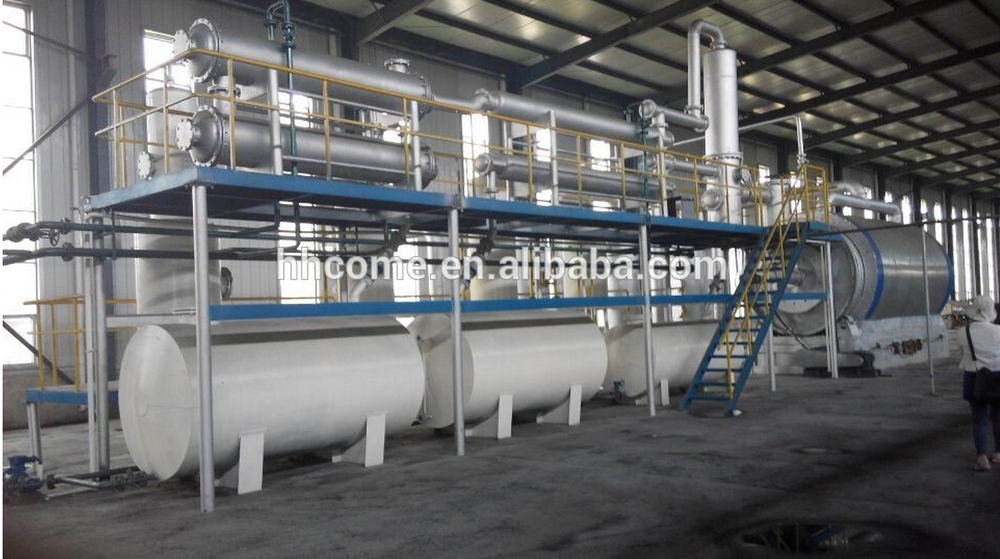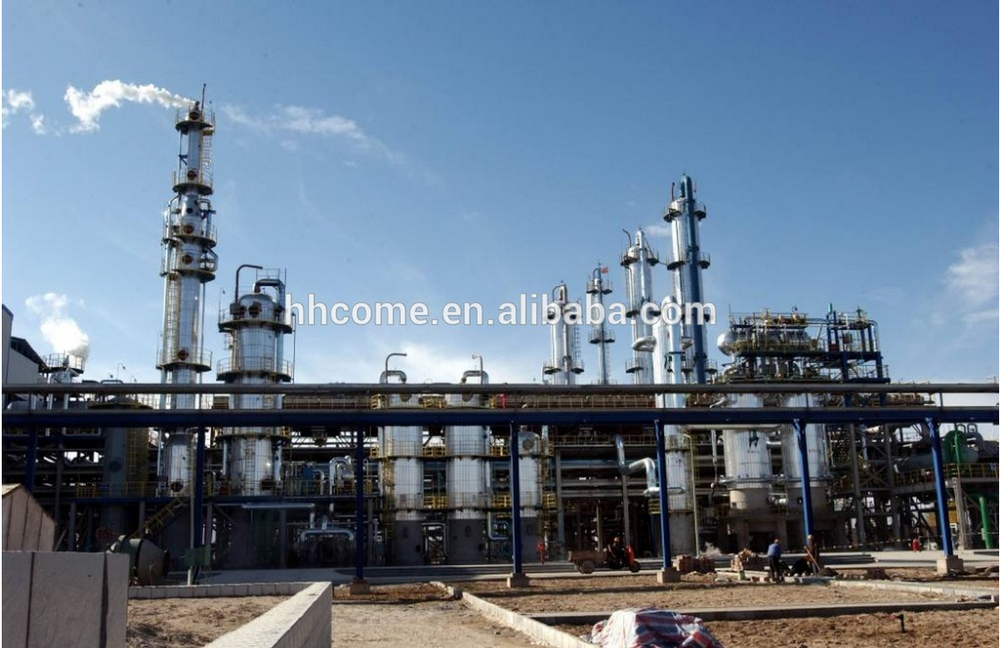 Contact us if you need more details on Waste Plastic Pyrolysis. We are ready to answer your questions on packaging, logistics, certification or any other aspects about Waste Plastic Recycle、Waste Plastic to Fuel Oil. If these products fail to match your need, please contact us and we would like to provide relevant information.
Product Categories : Linseed Oil Press Machine